John Hartog - Natural Soundscape Recording
Sound Journal entry: October 25, 2009
Robinson Canyon, Wheeler County, Oregon
Minutes of stillness prelude a short series of statements and responses through two owls. I presume they are Western Screech Owls. Their echoes fade to the distant ridgeline of a steep canyon valley.


Play the clip below, or click here, to hear the recording.
(Length: 6:00 minutes, Size: 6.87 MB, Format: MP3 160 kbps)

After a day of hard work with hammer and spike
planting willow slips into streambed gravel,
we took some time to view moons of Jupiter
and contemplate around a jovial campfire

The clear skies at dusk, along with an absence of breeze lent to a drop in temperature we gauged on our faces and fingers. Eventually we doused the fire and sought our tents for refuge from cold. The owls visited our camp several times through the night to offer awakening comments.




The photo below shows the landscape of my acoustical study.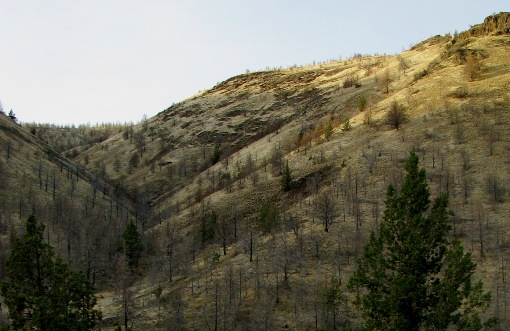 This sound journal entry is dedicated to the riparian restoration team and to our fabulous coordinator of the work party, and
ONDA - the Oregon Natural Desert Association - www.onda.org
- end -
Unless specified otherwise, the recordings, photos, and all content of this webpage are owned solely by John Hartog - Copyright 2009 - all rights reserved. File sharing and commercial use are not permitted. Outdoor playback to wild animals is not permitted.
If you have any questions or comments, please visit our contact page and send us an email.

John Hartog
Natural Soundscape Recording
Portland, Oregon USA
www.rockscallop.org
A tribute to the world's vanishing quiet places