John Hartog - Natural Soundscape Recording
Sound Journal entry: February 28, 2009 4:05 a.m.
Great-horned owl and western screech owl recorded at night in the hills above the John Day River, Wheeler County, Oregon.
Play the clip below, or click here, to hear the recording.
(Length: 3 minutes, Size: 4.12 MB, Format: MP3 192kbps)
Recorded with Rode NT1A microphones and a Sound Devices 702 digital recorder. This recording was edited to lift the voices of the distant subjects above the significant artificial noise from the recording equipment.

The photo below, taken not far from the recording location around 4:00 p.m. the same day, gives a general idea of the setting.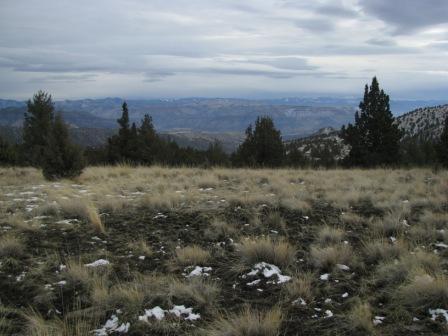 The recordings, photos, and all other content of this webpage are owned solely by John Hartog © 2009. File sharing and commercial use are not permitted. If you have any questions or comments, please visit our contact page and send us an email.

John Hartog
Natural Soundscape Recording
Portland, Oregon USA
www.rockscallop.org
A tribute to the world's vanishing quiet places