For my latest refinement in soundscape recording with a parabolic dish
- now introducing -
Split Parabola Boundary Array
by John Hartog Natural Soundscape Recording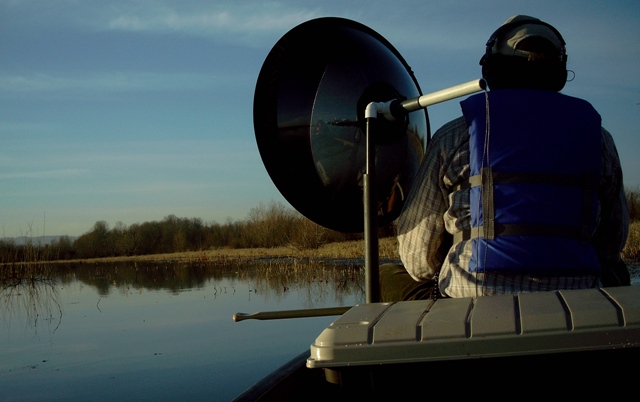 Me and my SPBA in a fifty-dollar canoe out on Smith and Bybee Lakes in Portland Oregon.
The parabolic dish is a Telinga, and the microphones are Shure WL-183.
The rest I designed and crafted or scrounged up myself.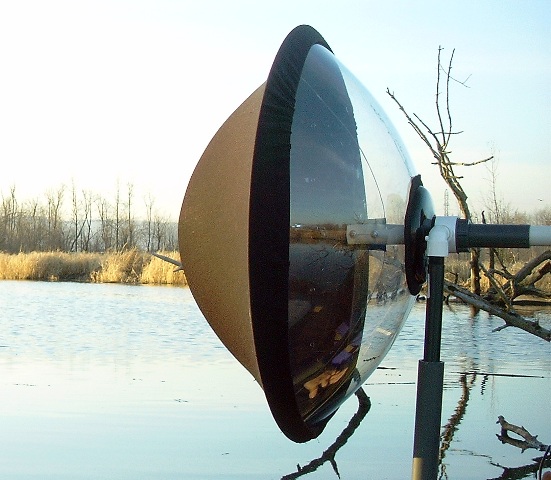 The large barrier conforms to curve of the dish
and extends amply forward beyond the edge.
This preserves an accurate stereo field.

The positioning of the microphones in the dish is adjustable from the rear
for easy field experiments with different focal depths for different subject distances.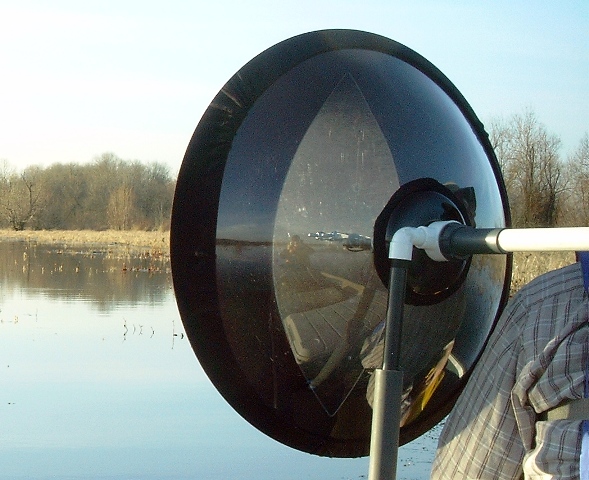 The mics are mounted facing the boundary and tight within the pressure zone.
This compensates for parabolic gain lost from splitting the dish in half.
Play the clip below,
or click here,
to hear the SPBA working on its maiden voyage.
This recording of a Great Blue Heron, ducks, and other wetland creatures
was edited with a parametric equalizer to tame a stifling urban roar.
Recorded with a Sony MZ-N707 Minidisc recorder, January 13 2008 - 3:30pm.
John Hartog
Natural Soundscape Recording
Portland, Oregon USA
www.rockscallop.org
a tribute to the world's vanishing quiet places
I reserve all rights to my recordings and my inventions. For inquiries please visit our
contact page
and send us an email.